The Tin Huey Story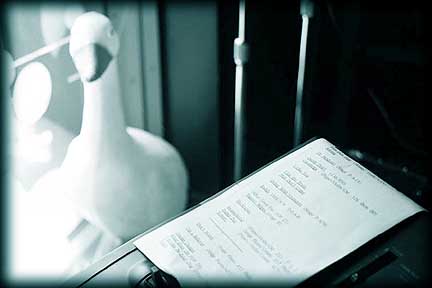 Part 1
-The apples are there-
it's- just- no one wants to buy them
As the dust rises from the road, the actual years only matter a little ... which is a good thing because as goes the dust, so go the flat spots on our brains when it comes to the most accurate details, but ... as time goes on, I'm sure gracious readers will come to our aid and help fill in blanks and correct errors. Still, but ... here's the thinking about chronology, a laughable concept at best:
At the Dawn of the 70s there was a band, in the guise (format-wise) of a "power trio" known for such atrocities as 20-minute versions of Paul McCartney's "That Would Be Something" and "Substitute." This band, crewed by future Hueys Mark Price (aka Wesley the Stash, then on guitar), Michael Aylward (then on bass) and Stuart Austin (on drums, then known as Napoleon Lemans), was called Rags.
After an indeterminate but short period, following Harvey Gold's brain chemistry makeover at the hands of The Velvet Underground via "I Heard Her Call My Name" and "Sister Ray" (thanks Jim), Harvey joined Rags on organ.
Blink, blink, the clock barely ticks, Mark has to take his leave for a variety of reasons, and "Rags" being Harvey, Michael and Stu, go acoustic (ala Bolan and Finn) and after tossing and turning a sec, rename themselves, after Michael's younger brother: Tin Huey.
So this might be looking at 1972-3-ish when they go electric adding guitarist Arthur Baranoff and bassist Wayne Swickley. Wayne, after a time, leaves, then Arthur, to be replaced in the lineup by his own self ... Mark, this time on bass, and sax player Lochi MacIntosh.
This was not a band for the faint of heart: In addition to the Bowie, Mott the Hoople, Stooges and Velvets covers, the band was investigating the European crazies like Faust, Can, and Amon Duul, as well as the Canterbury gang, Hatfield and the North, Henry Cow, Gong, Caravan, and writing their own ultra aggressive art-rock (yes, that COULD be done then--CAN'T be done now ... or can it?) in the form of original tunes titled "Kill All Green Dogs," "Korean Sunset," and "You Flaked Cod" ... hence ... Lochi fled and by 1974, the band changed radically by adding, newly-minted from Akron's Firestone High School, Ralph Carney on horns, and Harvey, able to buy an electronic keyboard, helped Tin Huey really become more than a guitar band.
So the five members of Tin Huey labored on, playing locally at venues such as Cleveland's Pirate's Cove and The Viking Saloon, venues where they gigged with Rocket From the Tombs, Mirrors, and Styrene Money Band, then Kent's Townhouse and ultimately a 3-night-per-week at JB's on Kent's notorious Water Street, also home of the legendary Numbers Band (15-60-75) and a launch pad for Joe Walsh's James Gang among others. They got this gig simply because they had a sax player and the guy who ran the bar really loved ... Grover Washington, Jr. Yeah ... we can see the logic here, now!
The first "break" for the Hueys, in addition to a regular gig (in front of rousing crowds of, oh ... about 20 folks on a good night), was certainly due to the rising popularity on a national scale of Devo, fellow geeks that were causing some focus to hit Akron. At the same time, Nick Nicholis of The Bizarros founded his independent record label, Clone Records.
Part 2
Just get me a trip to the Bahamas
Until then keep your mouth shut
So here we find ourselves in 1977, the historic year in which The Eudora Welty Newsletter was established at the University of Toledo and, thanks to the establishment of Clone Records by a pal, Nick Nicholis, a new era began.
See ... this was a time that was very, very Rock & Roll, and for a bunch of geeks such as Tin Huey, it was also very Mickey Rooney and Judy Garland, i.e., "Hey!!! Mark's got an Otari 8-Track, Ralph has a Kazoo and well, I've got a bunch of obscure budget label classics we can pirate crap from and ... !!!" and *voila*, the new Tin Huey vinyl catalogue starts getting spat out starting with the self titled EP, "Tin Huey". Now in all actuality, three of the four tracks had been recorded and mixed earlier at the Krieger Field 4 Track Studio on High Street in Akron, and one ("Poor Alphonso") live at JB's, but you get the idea.
When we look at the career of The Beatles and The "early" Stones, we wonder over how they managed to pack that much material into such a tremendously short period of time. In our case, uncannily, it was ... not really like that at all, but ...if you go to our discography, please make note ... and add in the Clone release of Chris Butler's Waitresses single, "The Comb" b/w "Clones," and Harvey's "Experiments" 45 ... a lot of stuff got spat out in short order.
By early 1978, with the addition of "Breakfast With the Hueys" and appearances on an Akron compilation by Stiff Records, the Hueys have a small basket of indie vinyl out, a handful of great reviews, and are contemplating going to England to see if they can make a little more noise.
During this period, Chris Butler, then bass player for The Numbers Band, a Tin Huey fan, a publisher of a local indie rag, and a heckler during Huey sets when he found himself on break with his band, would regularly call out of the dark at JB's:
"HARVEY! HARVEY GOLD!!! CALL YOUR MUTHA!!!"
--- in a faux Yiddish/Brooklynesque accent.
It would be great to say that this alone is why we asked Chris to join the Hueys, but alas, it was a combination of things: First, we loved the song "Clones" that Chris had just released on Nick's label as we were releasing one of our seven-inchers. Second, he became available, parting ways with The Numbers Band over some conflict of interest issues (he was interested, but ...), and our pal, our guru, our totally dysfunctional resident smart guy, Jim Kauffman, suggested we'd be better with Chris ... maybe. Now Jim had suggested we check out Ralph, and clearly that messed up everything, so it seemed that this too might be the way to go... and Chris agreed, much to our delight, fear, loathing, and ultimately ... well, Jim lives in another state only rearing his round gray head to show up at east coast gigs now.
So this, in earliest 1978, is where another compression of sorts takes place. The infamous time-line with no times but in the correct order:
We start rehearsing with Chris, just to see how it feels (feels excellent) when...

Nick N. calls and wants The Bizarros to do a show with us at JB's because Robert Christgau of the Village Voice (with whom Chris had been corresponding, and who had given Huey's vinyl some kind reviews), is running a huge series in The Voice called "Down in the Boonies" and as part of it, wants to come, PERSONALLY to hear "The Akron Sound" for himself!!! And since we had a sax player, thus a regular gig, well ...

Side Note: THANK YOU DEVO!!!

So we kill ourselves rehearsing every night for two weeks, losing and regaining voices, losing and regaining (not really) sanity, Chris and Harvey setting the Maxwell House record for coffee consumption, the boys writing and learning a stack of new songs, while publicizing the crap out of the gig.

"Tin Huey Devours The Waitresses!!!," screamed the headlines!

Then we did the gig and it was pretty good ... and THEN ...

Robert calls. It seems he liked us so much he was going to do something he'd never before done in his career, i.e., call his pal, Karin Berg, the A&R Goddess at Warner Brothers Records and tell her about us. The phone rings a couple of days later and here we go again ...

It was back to work. Two weeks later, Tin Huey is doing the same thing at JB's for a great audience, and ... gulp ... Warner Brothers Records, the home of Lowell George, Captain Beefheart, Ry Cooder, Van Dyke Parks ... golly!!

Following the first set, Karin comes up to us and poses the fateful question: "Do you guys have a lawyer?" It turns out that she, oddly, didn't ask this question because she was intending to file suit against us.

Two weeks later, one more time, now for Karin, her new boss, R&B legend Jerry Wexler (who was, in all honesty most impressed by the fact that we were reasonably in tune), his son, Paul, who ended up producing our "Contents Dislodged During Shipment" for his dad's label, and Michael Ostin, the son of Warner's Boss, Mo.

Side Note: THANK YOU NICK NICHOLIS!!!
Part 2a
I Could Rule The World ... If I Could Only Get the Parts
OK so, let's compress a bit more. We fly to L.A. in the mid-summer of 1978 and make Contents Dislodged During Shipment, finishing recording at Warner Brothers Studios and remixes at The L.A. Record Plant by November. We get to meet Ry Cooder and... yes... Captain Beefheart, who comes to sit with us for a time.
The "famous" story has Beefheart looking at our set list for the album, and remarking "'Puppet Wipes?' Why would you name a song 'Puppet Wipes?' Sounds like something Frank would do. Ya oughta call it 'Puppet Lights'" to which Harvey naively responded, "But then it'd sound like something YOU'D DO!" to which Don replied "and...?"
The great thing here, was Don refusing to record a harp solo on "Slide" after hearing Ralph's, giving the "Captain Beefheart Stamp of Approval" endorsement to Ralph's terrific solo.
We also saw the "Ice Cream for Crow" showcase Captain Beefheart and the Magic Band did at The Ritz in LA, causing a bit of a ruckus, us responding to the insane genius onstage in just a little more palpable way than the Los Angelinos in attendance, went to the DEVO kickoff gig at the Starwood, a truly great show, and The Talking Heads at UCLA. All good stuff.
Harvey later, while involved in the Record Plant remix, got to meet William Burroughs (RIP) by the pool at the Tropicana (RIP) Hotel on Santa Monica Boulevard, persuading him to autograph Harvey's copy of The Goodyear Blimp Book--so clearly it was a great time for one and all, kinda, sorta... for the most part. Eventful, for sure.
Contents Dislodged During Shipment was released in the Spring of 1979 and was signed, sealed, and obscure by mid-summer. The story about this is long, convoluted and has a lot of political subplots and varying viewpoints. Suffice it to say that we made a largely non-commercial record for a label that, despite Karin Berg's best efforts, or perhaps because of them (through no fault of Karin... as written... politics), was NOT gonna get behind it. This coincided with the record industry crash of '79, so after a long and drawn out negotiation (two phone calls... about 10 minutes total), we negotiated an exit from Warner Brothers by late summer of '79.
Too much weirdness. A garage band gets a taste, does it's damndest, loses it's footing...
So after recording a couple of new demos, having talks with a variety of labels but no immediate takers, and feeling suffocated, things change fast. Ralph decides to move to the Woodstock NY area, drawn by Don Cherry and Karl Berger's Creative Music Studio. Chris is planning a move to Manhattan, as are Harvey, Michael and Stuart. Mark ultimately begs off, continuing to run his "Bushflow Studio" in Akron.
Michael and Stu help Ralph move to Woodstock, while at the same time, Harvey's then-wife, Kay is looking at apartments up by Columbia University while Chris and Harvey are mixing the Huey's last release, again, for Clone Records, at the "House of Music" in Orange, NJ... "English Kids" b/w "Sister Rose." The call comes from Michael to the studio. Stu and Michael are captivated by Woodstock and argue that they should all move there. Harv stops Kay from putting down a deposit on an apartment, and a short few weeks later, November of 1979 finds Chris in NYC, Harvey, Michael, Ralph and Stu in the Woodstock area, and Mark back in Akron...
And we sadly leave behind sound mixer (he'll come into the story again later) John Mondl, road manager and guru (which is apparently defined by a person with an obnoxious personality BUT synapses that actually fire off, leaving us dumbstruck) Jim Kauffman, and our fabulous road techs and dear pals, Bruce Rick Peters and Greg Lewis.
Chris and Harvey meet Frankie Valli while mixing in Jersey.
Woodstock had most of the core work being done by founding Hueys, Michael, Stu and Harvey, as Ralph, after a relatively short time, moved to Brooklyn. Recording initially in Harvey's log house on a 4 track deck with Frank "Blank Frank" Campbell on bass, they came up with songs such as "Bridge Love," "You Should Have Been My Sister," and "Weekend in Paris." These particular, very rough recordings, were mixed by Daevid Allen (Gong), who, along with a pretty eclectic group, also resided, at the time, in Woodstock.
Later they recorded at Eddie Offord's ('Yes') studio located in a home rented from Levon Helm with engineer Chuck Allen. The sessions there yielded recordings of "Zebra Operation," " Idle Viewings," "Soldier of Fortune," "Blue Education," and "Living With Strangers" (on the disinformation album). Frank played some bass, Mark came up from Akron at one point to participate in something or other during this period, and Harvey began playing bass for the band as well during this time. Ralph would come up from Brooklyn to work with the Hueys when work was to be done as well, and the boys did do one gig at Hurrah in NY in this 'era' with Mark playing bass.
Part 3b
"No place for the faint of heart--lemme tell you"
Timeline sensitive, we're moving thru 1980 and into 1981. Mark is still in Akron, and Blank Frank isn't quite enamored enough by our myriad of snack foods, flashy clown costumes, and colored lights to hang around when he could be out gigging with his girlfriend, Cindy Cashdollar. Combined with the watershed moment of clarity experienced by Harvey in which he finally realized that he was never to be 6'10", black, or for that matter, ANY kind of a power forward in the NBA, well... in addition to his duties on keys, he would focus on bass, become part of a dark rumbling rhythm section vibe, y'see... and the boys let their longing gaze land on a very special feller.
His name: Ralph Lane, aka Ralph E. Boy aka Ralph Legnini. "Discovered" working with Michael as fellow guitar-making craftsmen at Veilette-Citron in Kingston, NY, E-Boy was also playing in a local Woodstock band called "Johnny Average and the Falcons" which at various times, also included "Blank Frank", Shane Fontaine (who later enjoyed the brief infamy of being in Bruce Springsteen's NOT E Street Band), and the short lived ("Nervous Breakdown") Bearsville recording artist, Brian Briggs (who, during this time, tried out Harvey and Stu as potential support band members for his solo venture... one that sadly never left the tarmac).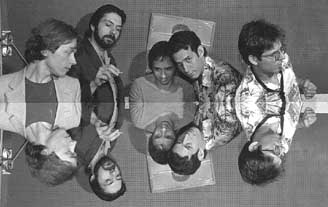 Hailing from the Bronx, the diminutive E-Boy was/is an awesome musician and guitarist. His leanings were far more towards the "commercial" than the rest of the band, yet his strong and bitingly accurate guitar playing mixed with Michael's trademark 'psychedelic' soundscapes, and Harvey's move to a driving bass style while reducing the keyboard's role in pretty much every respect, gave new voice to Tin Huey.
The Stuart, Michael, Ralph C., Harvey, and Ralph E. Tin Huey did a couple of small Midwest/NE club tours between mid 1981 and early 1982. Many of the songs that they wrote during this period are in evidence on disinformation. And interestingly, the only work from Contents Dislodged During Shipment played on these tours, was Michael and Harvey's "New York's Finest Dining Experience." This didn't make the older fans happy. We know it's a little late, but... sorry.
We're going to go on trust now and assume that either: a) you already own a copy of disinformation and have read all our clever liner notes and important acknowledgements with your gigantic magnifying glass, so you already know many of the details about the songs and their production, or b) you're going to... so we'll not go into it in too much detail but:
The tracks "Cheap Mechanics," "Otis Says No," "The Tin Huey Story Part 2," "Lovely Little Thing," "Missing Persons," "Reliable Sources," "Blow 'em Away," "Almost Transparent Blue," and "Sick Jones," from Tin Huey's disinformation album were babies of the "E-Boy era."
These songs were recorded in the Bronx (see liner notes for names, dates and details; the memory spots on the brain are weighing in here at present and we're on a roll, so let's keep going, shall we?), some of them being produced by Tin Huey with Rob Sabino, a close friend (and truly great fellow, btw), of E-Boy's who played with Chic and, notably, did keyboards on David Bowie's Let's Dance album. Rob's influence is most noticeable via the "China Girl" style keyboards on "Missing Persons" and the overall voicing of our rollicking disco hit "Blow 'em Away."
On others (again, please turn to Page # Microdot 1aaa in your CD book), our old pal Mr. Butler came in and produced with us. This was the last time we'd all (with the exception of Mark, who, regardless of any cosmic alignments and/or shake-ups in the ether, is ALWAYS with us) be together professionally for years.
After our "Tin Huey 1982 North American Tour" E-Boy, his decision based on personal economics and musical goals, along with his steadfast belief that the rest of us would NEVER, EVER, EVER get even vaguely normal enough to have a hit even a fraction as successful as... say... Billy Joel... decided to move back to the city.
Trivia note: During this period, along with a variety of ways we actually made livings, Harvey, then later Michael, his wife Susan, and E-Boy worked for Todd Rundgren, Utopia, and his Utopia Video (while it was still breathing, of course) in various capacities at various times.
-We all like Todd's music from various periods, too. Don't argue. Not worth it.
-We all like Todd himself from various periods, too. Don't argue. Not worth it.
* Michael, Susan, Harvey, and E-Boy represent "we" for purposes of the above declarations. Even though she never worked for him, Dolli, the band's webmistress and Harvey's wife, would kill us if we left out her name as a big fan as well.

When E-Boy decided to leave, a consensus developed amongst the rest of us founding fathers that there was a degree of burnout that begged for a break from Tin Huey, so... we did so... for a minute, this time leaving 'behind,' as it were, the absolutely fabulous sound mixer, roadwizard, pharmacist, and all around great guy, described on national televison by Richard Belzer (in an episode of the unfathomably GREAT series, Homicide: Life on the Streets) as "Antonio Banderas' cousin," Mister Biff Russell (also known to many as "Nick Russell, Test Pilot").
Compression Deluxe: Yeah, well...then what???
-a catch up of where the current cast went between then and the next event.
Chris Butler formed The Waitresses, produced independent records for Freedy Johnston and Joan Osborne, and continued (as he does to this moment) making records and living as a "professional song writer." He dabbled in the world of TV with music for the cult series "Square Pegs" and served as Harvey's musical director and leader of the house band (which included Ralph Carney) on the Harvey Gold produced series "2 Drink Minimum" for Comedy Central in 1993. These days, in addition to the Hueys, Chris has a band of mates in Hoboken NJ called The Cranks and has been doing some work with Harvey as the duet, Half Cleveland. There's way more but you should go to his site for that at http://www.nutscape.com/ChrisButler/.

Stuart Austin also enjoyed the privilege of intermittently working for Todd Rundgren while living in the Woodstock area. The lowpoint, in his eyes, was watching and working the fringes of Todd's putting "another brick in the condo" by producing what Stu describes as a "down-under megastar band,"Dragon, gratefully followed shortly by doing same around Todd's production of an album by... "XTC, who were afraid of the wild animals, stayed in most of the time, and played really long and intricate war board games, went bowling once, and also made one f*ck of a good record." Ultimately, Stu returned to Akron to continue his studies in electrical engineering. Frankly, he's a pretty private guy, so other than really obvious big picture items, well... can't really report much here. His lawn is really nice, and outside of flirting with losing his arm with a really bitchin' staph infection a couple of years back, his drumming these days is every bit as pretty as his yard.

Ralph Carney went on to play with the B-52s, Oranj Symphonette, Big Noise, Swollen Monkeys, worked with Hal Wilner on the Thelonius Monk and Disney tribute albums, and as collaborator with Tom Waits for a number of years. He's released three solo CDs, as of this writing, has done music for TV (collaborating with E-Boy on an HBO series), cartoons, and well... frankly... his credits go on and on. Outside of the Hueys, he's also got a band called CarneyBall Johnson out of San Francisco, where Ralph currently resides . Again, lots has been left out as Ralph has been a busy pup, so look to our "latest news" page and also try http://www.akroncracker.com

Michael Aylward, as Tin Huey was once described as being "... in search of the eternal questions of the whoopee cushion," has continued to be in an eternal search for tone, tone, and... more tone. In addition to continually adding to his myriad of long leanin' notes, Michael has collaborated with Harvey on a side project, currently unknown as Mister Ray Violet, and recently took part in a short recording session with a spontaneously reunited Rats with Harvey, Stu, and Mark, some of which may be appearing on the Tin Huey website in the form of MP-3s very soon. As noted earlier, while in the Woodstock/Kingston, New York area, Michael became a guitar maker, custom building a number of instruments that were heard on 'disinformation'. He continued to cultivate his woodworking skills, then moved back to Akron for family reasons.

Mark Price, after continuing, for a time, to run his "Bushflow Studios" in Akron, moved his studio and efforts to the San Francisco area, where he expanded into the world of video production with Comarts, while diving in here and there over the years with like minded musicians in the Bay area to keep his chops up. He's currently shifting his facilities into the world of digital video, growing then cutting hairs all over himself to confuse us, generally continuing on his unique cosmic road to enlightenment and getting certified so that when he massages us, we won't be able to further litigate him into the ground.

Harvey Gold moved to New York City from Woodstock to pursue film and video production as a career. In 1986, he started his video and film production services company, Gold Teleproductions, in which he still partners today. He also served as technical supervisor, producer, director, and executive producer on a variety of TV specials, series, and documentaries. For more on that, go to http://www.goldtele.com/gold.htm If you read the above profiles, you already saw when and where he occasionally intersected with the boyz's in a variety of ways. He moved back to Akron, where we now find him, in the beginning of 2000 for totally romantic reasons.
---
From Tin Huey to Moist Hueylettes...
the last 5 years in 4.3 words (or more...).
To be fair, in many corridors of Hueyworld, not much else happened after that.
At some point in the 90's Huey Engineer John Mondl and Michael Aylward took it upon themselves to collect (or re-collect in some cases from Huey archivist Marty Crabtree) bake, preserve, and transfer tons of tapes. Trying different studios, mixing and re-mixing, then having Harvey and Chris weigh in at the end, they were responsible for the existence of disinformation, released in 1999.
Otherwise, everybody went about their business for the most part until August of 2002, when Ralph decide he'd make a visit home to Akron into a Ralph Carney and Friends show at The Beachland Tavern. Harvey had moved back from NY in February of 2000, so he was now conveniently around, as was Michael and Stu and our old pal from Unit 5, Bob Ethington.
And that's where it started.
Harvey then flew out to SF to try it again with a different bunch, playing with Ralph opening for Col. Claypool presents: Bernie's Bucket of Brains. Huey bassist Mark Price was on hand to have fun and videotape the set. This felt great as well. The inching forward was beginning.
A sort of harmonic convergence of events then took place:
All the notice in Rolling Stone, on NPR, and elsewhere that Chris's Museum of Me CD, released at the end of 2001 was receiving...
The February 2002 reissue on Collector's Choice of Tin Huey's Warner Brothers Records effort, Contents Dislodged During Shipment as a CD for the first time...
The late spring release of Ralph's This Is!!! Ralph Carney, topped off by...
An article in the local culture rag, The Scene naming Tin Huey one of the five bands, then-music editor, Jason Bracelin declared he'd pay big money to see live...
...got everyone thinking that all this stuff sort of left us no choice.

So in April of 2003, the juggernaut started, with the "Ralph Carney Exhumes Tin Huey" Micro-Mini Tour (for details, pics, etc., link at bottom of this page) This also signaled the entry of "Bongo" Bob Ethington into the band. Now pretty much everything that's happened since is documented somewhere on this website but suffice it to say that for old guys spread over about 3000 miles, we accomplished quite a bit:
Ralph Carney Exhumes...leg #1.
April 10th 2003-- The Lime Spider, Akron Ohio.

April 11th 2003-- The Beachland Ballroom, Cleveland Ohio.

April 18th 2003-- Tonic, Manhattan, New York (for Quicktime Movies from this gig, link at bottom of this page on 'live video').

April 19th 2003-- Taped Interview/performance on WFMU for that evening's broadcast, Jersey City, New Jersey (to hear this program, go to the 'micro mini tour' link at the bottom of the page)

April 19th 2003-- Maxwell's, Hoboken, New Jersey.
* Ralph Carney Exhumes...leg #2.
* while described as such above, this is where the band started bringing more Huey material into play, as well as some new material looking towards new projects.
August 8th 2003-- The Lime Spider, Akron Ohio.
Two sets, recorded 24 track live with the plans of including some of these performances on the next Tin Huey CD.
August 9th 2003-- The Rock & Roll Hall of Fame, Cleveland Ohio.
August 10th 2003-- Half Cleveland, The Beachland Tavern, Cleveland Ohio.
Beginning as a lark, this signaled the beginning of this Tin Huey subset, a group meant to play and create, the two principal songwriters of the "Contents Dislodged..." period, Harvey and Chris being the centerpiece with whomever can join in, joining in. This occasion was just the two of them, unplugged, playing a short set for a benefit.
After the August shows, the Hueys gathered in the studio to lay down some tracks for their forthcoming CD.
October 10th 2003-- Half Cleveland, Square Records, Akron Ohio.
Affectionately called "Moist Hueylette" by Akron Beacon Journal writer Malcolm Abrams, this signaled a blossoming with Harvey and Chris joined by Michael, Stu, and Bob, this time 'semi-plugged.'
December 5th 2003-- Half Cleveland, The Goldhawk, Hoboken NJ.
Chris, Harvey, Bongo Bob, joined by Chris Butler and the Cranks members James MacMillan and Paul Moschella joining in on a couple of tunes.
December 13th 2003-- CarneyBall Johnson and Friends, The Lime Spider, Akron Ohio.
Ralph brought the boyz, Kimo Ball and Scott Johnson in from SF to do a couple of sets. The second, Harvey, Michael and Bob joined in, with Stu supplanting Scott on drums for the first three tunes.
2004--Journeys to Gurneys
January 9th 2004-- Half Cleveland, Maxwell's, Hoboken, NJ.
Chris and Harvey, playing on the bill with Robyn Hitchcock, a gig rescheduled from their December foray to Hoboken (see the gig report at "Latest News" or in the archives) bringing a blizzard with them, were joined on drums by Paul Moschella, bassist James MacMillan, and guitarist Jim Higgins, doing two sets. Great shows, great audience. thanks Robyn, thanks Todd.

January 10th 2004-- Half Cleveland, The Sidewalk Café, NYC.
Chris, Harvey and James, on a truly frigid night.

April 30th 2004-- The Lime Spider, Akron, Ohio.
With Infinite Number of Sounds opening. www.infinitenumber.com.

September 17th 2004-- "The Crooked River Groove," Cleveland, Ohio.
TV Taping, multi camera video for this regional TV series (no syndication as of this writing), a full band 30-minute set will appear on the show. Michael, Mark and Harvey went back for the writers interview/unplugged performance tapings on September 21st. No air date published as of yet.

September 17th 2004 PM-- The Beachland Ballroom, Cleveland, Ohio.
CD release party for Sneak Peak:The Obscurity Series the EP sampler of 4 songs from the new Huey CDs Before Obscurity: The Bushflow Tapes, and New Stuff: Obscurity Deluxe. Opening was Houseguest and Lonesome Cowboy Dave Deluca.

September 19th 2004-- The Hoboken Music and Arts Festival, Hoboken NJ.

September 19th 2004 PM-- The Shannon Lounge, Hoboken, NJ.
The east coast CD release party for Sneak Peak:The Obscurity Series. Two sets with a Half Cleveland mini-set in between by Chris, Harvey, Bongo, James MacMillan, and on Chris's "Idiot Trail," Michael on geetar.

September 24th 2004-- Tha Bing, Akron, Ohio.
42.857% of Tin Huey: Harvey, Michael, and Bongo Bob at a "Rock the Vote" event. A power acoustic trio joined for two songs by Chi-Pig's Sue Schmidt Horning, and a final tune by The Bizarro's Nick Nicholis.

October 16th 2004-- Half Cleveland, Cuyahoga Falls, Ohio.
Chris, Harvey, Michael and Stu for a "Mobile Meals" benefit. Also joined onstage, as at the previous benefit, by Sue and Nick.

Somewhere in the midst of this catalogue of incestuous activity, Carneyball Johnson has been doing gigs in and around SF and LA, and did a tour opening for Les Claypool and Frog Brigade. Harvey and Bob sat in with them on their Columbus, Ohio tour stop, as did Chris when they played at The Stone Pony in New Jersey.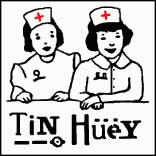 By this time, Michael, who had been diagnosed a couple years back with a leaky heart valve that would ultimately need repair, had determined that he was getting to the point he and his cardiologist had discussed--a time when it was bothersome enough that the problem would have to be met. He was experiencing what apparently was some level of congestive heart failure--lessened endurance and a wet cough, and while he made it through the October Hueybidness, he was starting to have trouble hitting the notes...the final straw, if you¹re looking for the drama of the "show must go on" artiste.
So surgery was scheduled for December 13th at The Cleveland Clinic. Terror and great bravery followed.
In November, we got news from the West Coast. Mark's masseuse discovered a hard swelling under his rib cage, exactly where a distended, balky liver might dwell. Mark proceeded to his acupuncturist who then sent him to...THE DOCTOR!
Tests and speculation ensued. The confirmation was that Mark had (has) cancer. No symptoms to speak of--the shaved head in the photo on our home page is actually the result of...Mark shaving his head!!! He actually grew his hair back to observe what the chemo would do.
Mark has colon cancer that spread to the liver. He began treatment consisting of a state-of-the-art chemotherapy cocktail and an alternative regimen designed to get rid of the evil intruder and help shore him up as best as possible against the creepiness of chemo.
As of May 2005:
The "Nicked-Up Hueys Rock-a-thon Benefit Weekend," organized by Huey "Bongo" Bob Ethington, taking place the weekend of April 8 and 9 found many wonderful folks playing and attending, with contributions coming from a number of friends who either couldn't get in (sold out 3 weeks in advance) or couldn't attend for other reasons. The report currently heads up the "Latest News" page on this site.

Michael's surgery was a success. He's back to work, and as in evidence from the report, was well enough to participate in sets played by Half Cleveland, Ralph Carney and Friends, and of course, Tin Huey, itself.

Mark's therapy has gone marvelously. When originally diagnosed his CEA (tumor tracking) number was in the 900s, As of blood work taken just before the benefit, his number had gone to 11...4 being total remission. He kicked ass during the Tin Huey set, btw.

So optimism on all parts doesn't seem to be all that unreasonable.

Ha Cha!!!
--June 2005
---
Geritol Dreams
Something inspired happened to a bunch of folks after the April 2005 benefit. Chi-Pig has opted to do a few more gigs as they come, as have The Difficult. The PBS documentary about the "Akron Sound" focusing on bands like the Rubber City Rebels, Tin Huey and The Bizarros at the end of the 70's and the early 80's It's Everything, Then It's Gone led to a sequel involving Chi-Pig, Hammer Damage, and Unit 5 (Bongo Bob's band) titled, If You're Not Dead, Play. More projects involving Chi-Pig's Rich Roberts (Chi-Pig, The Paper Crowns), The Walking Clampetts' Bob Basone and others are bubbling around the Rubber City.
Things also happened in Huey world:
* Mark, while not in total remission (as of this writing, 3/22/06), is doing great in his battle against cancer and is putting together a digital/analogue "mind meld" in the form of what may be the 21st century Bushflow Studios out in Northern California.
* Michael, with a renewed sense of energy and health moved forward in readying a space as a home studio. In the meantime, Michael has broken his musical hiatus he referred to as "retirement for a while," by playing a show with Harvey, Stu, and Rich Roberts at his wife Susan's "Enjoy Café" in West Akron--Michael also sitting in with musician Pat White at a later gig at said café.
* Ralph continues on continuing, recording tracks with Carneyball Johnson in San Francisco, and gigging and recording his clown mask right off his babyface.
* Chris and Harvey, also inspired, looking to play more, have turned harder towards Half Cleveland. Debbie Smith (Chi-Pig) honoring them by becoming full time bassist, with Bongo Bob sitting in for a string of shows, the kidz's have been able to get enough time together that the Hueys tradition of eclectic choices, the spark of experimentation, and pretty damned regular bowel movements carries forth in this little combo.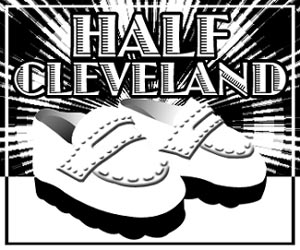 Allowing for "stuff" to happen, a number of Hueys and Pigs and others have joined in on the Half Cleveland Idiot Trail, detailed in reports on the "Latest News" page of this site (and/or in the archives). As of this posting, here's the action:
June 11, 2005--Half Cleveland appearance at The Crooked River Groove festival, Cleveland, Ohio.
July 9, 2005--Half Cleveland (w/ Chi-Pig and The Difficult) at The Lime Spider, Akron, Ohio.
August 27, 2005--Half Cleveland (w/ Chi-Pig) at The Beachland Tavern, Cleveland, Ohio.
September 17, 2005--Half Cleveland (Chris and Harvey as an acoustic duo) The Kent Stage (with The Numbers Band), Kent, Ohio.
November 8, 2005--Half Cleveland (Chris and Harvey as a high-tech duo) play with the legendary David Lindley at The Beachland Ballroom, Cleveland, Ohio.
December 8,9,10, 2005--Half Cleveland (Chris, Harvey and Debbie) do their "Drummers are Bummers" weekend out east:
--12/8 at a benefit at Hoboken's Willie McBride's;
--12/9 An evening (with a typically delightful short intermission set by Bianca Bob Miller) at The Goldhawk, Hoboken, NJ; and
--12/10 The Baggot Inn, Greenwich Village, NY.
And then, we begin 2006 with:
Mindful Meanderings
1/14 Michael and his song stylings with Harvey and his Harbeetronics Stuart and Rich Roberts--scoot their butts on the carpet at the above mentioned 'Enjoy Café.'

Also, on a Sunday in January, there was a conflagration at Harv and Dolli's to tape a Happy Birthday Tribute to Ralph as he was about to turn... um... another year older. Featuring Hueys Michael, Stu, Chris, Harvey, and 1/16th Clevelander Debbie Smith.

Bongo showed up much later to clown around.

Directed and Edited by hg
Shot and Art Directed by dqg
Sax Solo by cb
'Ralph Chorus': hg, cb, sa

We'll try to get a lo-res version of this posted sometime soon.
A Year Into the Storm
In early 2006, Chris bought a house 6 minutes from Harvey's in Bath, Ohio. While wearing and tearing on I-80 as a Bi-coastal ( and "bi" anything whatsoever is SO very welcome in Red State culture), it provides more opportunity for many things, principally coffee drinking, mail gathering, story swapping about unhinged birds (of more than one ilk... nod, nod, wink, wink), and playing a bit of music.

Ralph releases the first CD (same name as a tirtle) by Carneyball Johnson.

April 29th 2006 marked just the tiniest bit past a year since the Nicked Up Hueys benefit took place. The benefit, in addition to whatever financial assistance it offered, acknowledged the recently diagnosed and/or dealt with health issues of Huey founding father, guitarist Michael Aylward, and bassist Mark Price.

Upon learning that Ralph was planning a trip to Ohio for family reasons anyway, we decided that since this trip marked a year, Michael's health was now great and Mark was fairing well in his battle with cancer, we'd celebrate the fact that we were all still active card carrying bipeds, and play a celebratory gig.

This took place at The Lime Spider, with 2 sets and an encore by Tin Huey sandwiching a set by Half Cleveland, and one with all of the Hueys supporting Ralph in a 'Ralph Carney and Friends' set.

It was... fab. A full report is on the Latest News page.
Aside: On Becoming Sexual Healers
In Spring of 2006, "Hump Day" appeared in the Sundance documentary entry "This Film is Not Yet Rated" scheduled for DVD release and air on the Sundance Channel in Fall of '06. Appropriately, insofar as little to do with Tin Huey has or seemingly ever will make real sense, the tune is played during a sequence about sex scenes.
And then:
Moving into the Summer of 2006, Half Cleveland booked some regular stuff. Better to stay in shape than get into shape, yes? So, Harv, Chris and Debbie--with Stu on drums and Michael, like a former boxing champ dropping in and out of retirement as things suit him--played a benefit in Akron for displaced musicians in New Orleans on June 2nd at the Lime Spider.

Back up onto the horse, they followed with a June 30th date at Akron's new music club, Musica. This was a longer, headlining show as part of a festival linked with the Historic District of Akron, "Nantucket Nights."

As of this writing, there are gigs yet to be played on:
July 28th at The Baggot Inn, in the West Village of Manhattan and July 30th at The Goldhawk in our home-(and Sinatra's) away-from-home, Hoboken, NJ.
Then Came the Hammer
Chris has to have surgery to repair a torn rotator cuff in his shoulder. This hasn't kept him from the above gigs, lifting his son, having sex, gardening, or playing drums in his surf band purple k'niF, but the recovery being a question mark helped (along with some activity Harvey is undertaking which will appear in this story if and when it merits it) put an end to talk of a Ralph Carney and Friends gig in Akron and/or a Tin Huey show in same town of Akron in mid-August.

So, as of this posting, (July 19, 2006) as the Dead Body claims, "I'm not dead yet!" Battered, bowed, nicked up, but still...
Furthermore: Updates (July 2008)
Turns out that at this last gig at The Baggot, Huey alumni Ralph E-Boy aka Ralph Lane aka Ralph Legnini came down, ate a little Thai and joined in on a couple tunes, much to the delight of the band, starting a little thing rolling that you'll read about below.

All went just fine with Butt's shoulder surgery. Harvey took him to the hospital, then home, tucked him in and split. Recovery went swimmingly and he was back on board in no time at all.

But while Chris was recovering, in August, Harvey, Debbie and Bob joined up, in Akron, at Harvey's house to start recording their "Harvey in the Hall" project. This project which, as of (jumping way ahead) June '08, has 6 songs, 2 super finished 2 pretty damned finished, 1 almost finished, and yet one more getting it's mix legs under it. This project also, on various tracks, involves participation by Michael Aylward (Tin Huey, of course), Dan Auerbach (The Black Keys), Chris Hillman (The Byrds, The Flying Burrito Brothers and Desert Rose), and is co-produced by Bruce Hensal (Hotel California, Songs in the Key of Life and much, much more).

www.myspace.com/harveyinthehall

OK, back in the time machine again to:

2/9/07 Half Cleveland, with Chi-Pig's Rich Roberts on drums, thus making the gang call it Half Pig, or Chi-Cleveland, played, in Orlando at the above introduced and dearly loved Bruce Hensal's birthday bash, dubbed Brucapalooza.

3/23/07 Half Cleveland at The Murray Street grill in NYC, playing with the blast from the past hippy dippy band, The Shirts. Ralph Legnini joins in once again, and rocks it again!

3/24/07 Half Cleveland at The Luna Lounge in Williamsburg, Brooklyn.

Sometime in April at Cuyahoga Community College, in Clevo, working with our old friend Tommy Wiggins, Half Cleveland recorded a semi plugged artsy fartsy set as part of the "Live @ The Wi-Fi" series of live recordings done by students in the Media program. This yielded a CD that was universally felt to be, "not so bad, and kind of interesting!"

9/15/07 Half Cleveland, this time with Ralph e-Boy imported from Upstate NY one more time, played a 25 minute set in front of about 3400 people as part of a Chrissie Hynde organized benefit for the incredibly beautiful Akron Civic Theater. A great gig, folks.

Now another neurological change

It's this humble writer's feeling that, as the last Tin Huey gig noted here was so good, it made for a truly wonderful LAST Tin Huey gig, the Civic Theater show was either going to be a re-launch for Half Cleveland or would also be a perfect Swan Song. Not quite getting that yet, but trying to book something ASAP, there WAS a half Cleveland Show at Akron's Musica in late October or early November. A nasty rainstorm hit that night and it led to an OK turnout and an OK gig, nothing more.

Then perhaps a month later, when Huey Ralph Carney was in town, Half Cleveland played The Beachland Ballroom in Cleveland as part of a CD release event put on by the Tri-C folks (re: Half Cleveland Live @the Wi-Fi), and THIS was really a super duper gig… and perhaps the bestish is last again.

As of this writing , July 2008, Bassist Debbie is holding up performing, as her rheumatoid arthritis has placed her in a position where she's at risk playing and yet is in a hold-em-off-as-long-as-our ammo-holds-up posture concerning any surgery that may or may not allow her a return to bassland. BUT, we're working at this time on a Paypal set up to sell the above mentioned CD and perhaps some Hueys stuff through the website...commerce. It may already, by the time you're reading this in place, so check it out!

The Harvey in the Hall thing is still grinding away, anticipating the possibility of some live performance down the road, a 5-6 song EP that will also follow some sort of 'dance of exposure' should we be able to muster the energy to get it downloadable and hardgoods sellable.

Chris and Harvey tearfully refuse to dismiss their partnership, Michael and Harvey are messing around again with some weird art-rock-sci-fi-free form crap.

Harvey and Dolli write and work on recording yet another section of Butler's "Devil Glitch" in order to hold off the attempts of an Australian interloper to beat the length record for a pop song in Guinness...and then?

So the landscape changes but noise continues.

On 7/19/08, Ralph, Michael, Harvey, Stu and Bongo Bob assembled at what was formerly known as The Lime Spider in Akron and had a night of "Jammin' and Salmon," (though a multiplicity of grilled cheese sandwiches, in reality, dominate the menu) loosely touching a couple things that had previously been done on Ralph Carney and Friends gigs, but really only touching, no tongue. Kris Carter (www.kcshow.com) joined in and while this wasn't anything more than the guys jamming at an extablishment, as opposed to a basement or attic, the turnout was great and it was great to come home. Proprieter Danny Basone insisted on giving the 'band' some money which is going towards the Mark Price Fund.

Which brings us once again to Tin Huey's first real deal with mortality as we amble down the twisted road. Mark, by this writing has been through all 5 conventional protocols for colon cancer. He entered a trial group for a new drugv that had, at first, wondrous results, and then saw a backslide to the point he was dismissed from the group. Mark's mom has also passed. Mark is heading to Chicago to have a procedure that, if he responds well to it, will buy him another 6 months. We establish a fund to help him pay bills and get through the day. So the landscape changes but noise continues.
---
November 2008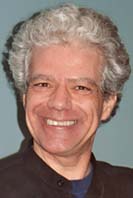 ---
Rest in Peace
Mark Richard Price
1952-2008
Hi folks,
I've been trying to post something for a while, but haven't quite been able to make that happen. Since this is reaching some folks that hadn't been in the loop until now, I sadly inform you that Mark Price (many of you know him as Tin Huey's resident twisted genius bass player) passed on 11/6 after a 4 year battle (in this case, the word is most correct) with cancer.
Our loss is enormous. It's been, however, a long illness and a rough road, so given the turn his health and treatment options had taken over the last 6 months, particularly these last few weeks, better he suffer as little as possible for as short a time as possible.
I know he's destined for a wonderful place. We send him off with all the love in this world.
Thanks for everyone's support and prayers. He knew he was loved right up to the end.
Mark's family's wishes concerning any offerings:
Hospice by the Bay
https://www.hospicebythebay.org
The contribution page may be reached directly by clicking below:
www.hospicebythebay.org/Foundation/Contribute_Form.html
In the meantime, everyone be well.

...movin on up, to the east side.
To a deluxe apartment in the sky.
Movin on up, to the east side.
We finally got a piece of the pie.
---