...TIN HUEY NEWS...

This page contains reports on the activity of members of Tin Huey and Half Cleveland, starting with the most recent events. So, for this to read as a Proper Narrative (a PN), you'll want to start at the bottom and work your way up. Like reading while riding in a car. You don't want to just sit there trying to find NPR while driving through the cleavage of those big hills around Asswell Pennsylvania, but you're still trying not to throw up. Better that it read right-to-left. Oy!
---
---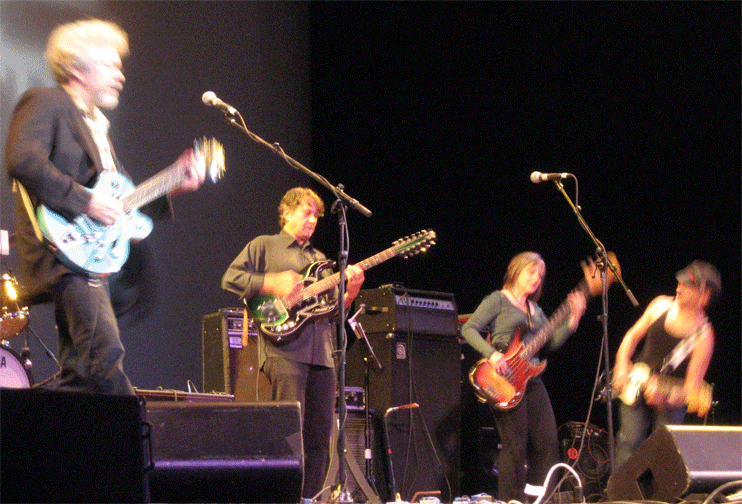 A Nice Gig
Half Cleveland:
Akron Civic Theater, September 15, 2007
"I want Debbie Smith to play. She's my oldest, dearest friend in Akron."
This was Chrissie Hynde's (The Pretenders) request coming from her management to the promoters of the "Chrissie Hynde and Friends" concert to benefit The Akron Civic Theater.
As the band Debbie is gigging with these days is Half Cleveland, there we have it.
With "Bongo" Bob Ethington on hiatus, taking a long planned Don Juan-in-the-desert pilgrimage out west, the core band called alternately "Half–Pig" and "Chi-Cleveland' when it played Brucapalooza in Florida a few months ago: Chris, Harvey, Debbie, and drummer Rich Roberts (who also hails, as does Debbie, from Chi-Pig), reunited.
Wanting a little more muscle for the big room, we added former Huey Ralph e-Boy Legnini on guitar. Ralph, having sat in with us the last couple times we appeared in New York, came up with great stuff for a few songs he hadn't played before and joined in on the whole set.
This night being a real "Dick Clark Cavalcade of Stars" seeming to return to the Civic for the first time since 1965, with 9 acts in all, our set was to time out at about 25 minutes. Coming after an intermission following sets of varying length from:
If These Trees Could Talk (young, aggressive' ambient band… really good)
Pat Sweaney (fellow Brucapalooza vet)
The Diffi-Cult (Punk/Pop trio featuring friends including DEVO book author David Giffels, his brother Ralph, and drummer, Lime Spider boss Danny Basone)
Judah (really sweet kid who raps Jesus, claiming 9/11, and Katrina happened cause we're Godless. Wasn't easy on gays either. Kinda forced a first intermission. Truly sweet kid, though).
and

The Bizarros (our pals, as always, the set grieving the loss of a dear friend a couple days before)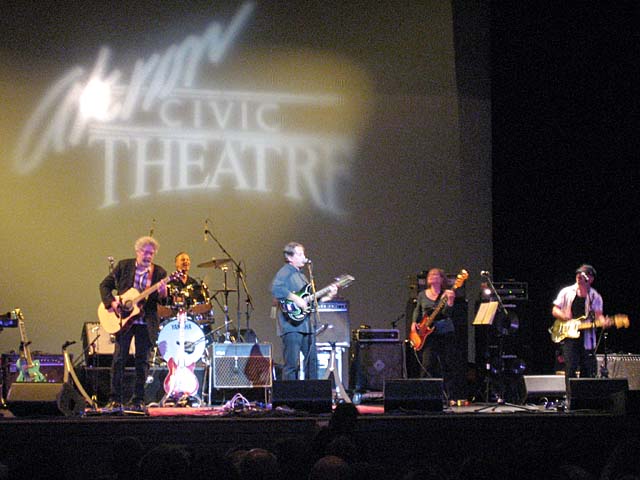 Half Cleveland did what has become our "trademark" open with Chris's "Hey Stranger," going straight into his rockin' political commentary "Workingmans Beer." Stopping to say hello to the truly kind and gracious audience, numbering, as we hear it , at around 3400, Harvey moved to piano and we headed into the song "Larry's in the Cut-Out Bin." Harvey moving back to guitar, E-Boy started up, as he did when touring with the Hueys, the chords to "Cheap Mechanics" which he co-wrote with Harvey.

We then ended the set with Harvey gazing up at the ceiling of this wonderful hall, replete with stars and moving clouds, a smile on his now 7 year old face, here with his mother to see The Mysterians – as he built the loop that runs "Lazy Boy."

After we finished, there was a typically wonderful, dark set by The Numbers Band, a swell time hearing Chrissie and Adam do an acoustic set, a terrific way of simply hearing the really lovely songs she writes and that singing. It's not just the voice folks. It's her! And then...Jerry Lee Lewis, which was cool if only in the fact that most everyone we knew had thought he was dead!

Debbie played here years ago with her band The Poor Girls, opening for Cream and then another with Steppenwolf. Chrissie sewed the outfit Debbie wore for the Cream gig. Now, her old friend brought her back.

A great night. Thanks to everyone.
---
---
Springtime Springs in the City
Half Cleveland at:
The Murray Street Grill 3/23/07
The Luna Lounge 3/24/07
Very briefly, a GREAT weekend. Half Cleveland returning for the first time since CB's shoulder surgery in August of last year. Harvey, Chris, Debbie, and Bob.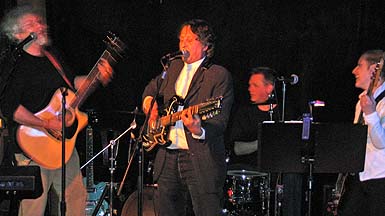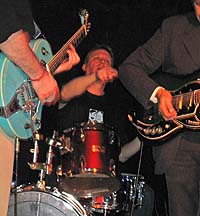 Friday, at The Murray Street Grill in downtown Manhattan, was interesting. The PA system was weird as there was a constant hum to one degree or another, and no monitors. Starting off the night was The Shirts, a blast from the past emboldening us, as it was a small room and they were a big band, AND SOUNDED REALLY GOOD, despite all the physical limitations pointed out above.
So we, in turn, also SOUNDED REALLY GOOD, had a ball playing, were joined once again by ex-Huey Ralph E-Boy Legnini, on three songs this time, killing on all three, and enjoyed a really nice turnout of fans and friends.
Thanks to Bianca Bob Miller, the Bill Graham of this night. And a shout-out to Max and Bill Janoff from What "!" ho Productions--you're always there to capture some tasty nuggets, either in still shots or on video like this little clip:
Click here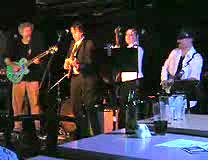 for a 4-minute 8mb clip

.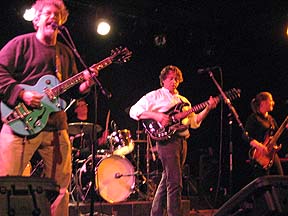 Saturday at the new digs for The Luna Lounge in Williamsburg was also interesting. It's a huge, high-ceilinged, cavernous room. The people there are great, and we really enjoyed rubbing shoulders with some talented guys in some excellent bands. For more on this gig, go to:
http://jerseybeat.blogspot.com
Sound may bounce around and resonate in scary low places, but the stage was uncharacteristically roomy, the place run uncharacteristically well, and the monitors kicked total ass, so we were pretty damned happy. Debbie wasn't feeling well but came through like a champ.
Thanks to Greg D, the Jerry Weintraub of the night.
And a profound thank you to everyone who turned out. It was a great weekend.
Back in the Saddle --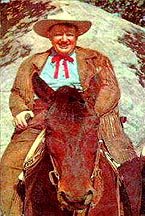 Almost 6 months since our last report. Hmmm.
Harvey went down to ARTI Studios in Orlando with producer Bruce Hensal to continue work on the "Harvey in the Hall" tracks reported below, only AFTER Byrd and Burrito Brother Chris Hillman laid down some mandolin on "Allegheny Lode."

Chris Butler fully recovered from the shoulder surgery in August. His coming out was as drummer for the Surf Band, testing his shoulder on a couple energetic gigs, one in Asbury Park. Everything is great.

Other little things happened. Chris is working on a cover of a song for a feature film in production at present; more on that later. Also, NPR aired a podcast he created--the story of his journey to recover the guitar with which he used to record "Christmas Wrapping!! For more on that, go to http://jammedonon.blogspot.com and look it up.

Huey Michael Aylward and engineer John Mondl are in the studio producing a project in Akron at present. More on that as we get closer.
Gig Report: Mutations in the South
Bruce-a-Palooza 2/9/07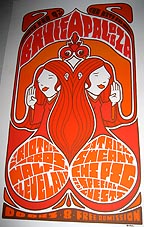 A planned birthday bash in February for Engineer-to-the-Stars (Chi-Pig and Harvey in the Hall, along with lesser lights like The Eagles, Stevie Wonder and a few other wannabees), Bruce Hensal, became the "Brain that Wouldn't Die" somewhere along the way,mutating into . . .
BRUCE-A-PALOOZA!!
As independent plans to attend the party by Harvey, Debbie, Chris, and Chi-Pig's Rich Roberts became known, a decision was made to form a Super Group, and thus was formed . . . ta da . . .
HALF PIG!!!
The other third of Chi-Pig, Sue Schmidt Horning, was unable to attend as she had JUST started a teaching gig at St. John's University in NY. So, the gang got together a few times as Chris and Harvey struggled with Sue's clever-assed guitar parts, just as Rich tried to memorize the trademark start/stop/shuffle/bang/Stop-for-Chrissake!!! song stylings of the Half Clevelanders.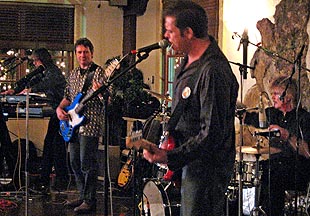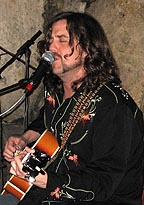 Starting off the evening was a talented and really terrific bunch of Limeys, The Riotous Brothers, visiting Bruce from Jolly Old. Up next was Northern Ohio's own 20-something savant from the mid-30s, Patrick Sweaney, both acts playing a couple Florida gigs while in the region.
.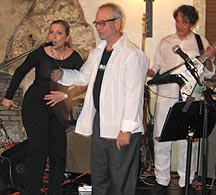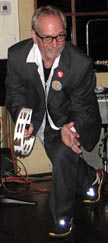 Then us . . . the ones who were there JUST FOR BRUCE!!! On a bunch of borrowed gear, CHI-CLEVELAND

tore into Chris's "Hey Stranger" and "Workingman's Beer," moving on to Harvey's (and Ralph E-Boy's) "Cheap Mechanics" and "Lazy Boy." Then things REALLY started to heat up on this Tropical Hot Dog Night. Leading off the Pork section of the show, Debbie and Rich got the sultry bass thing going and the group performed, from Chi-Pig's Bruce Hensal-produced Miami CD, "SSS (Involuntary Body Functions)," following with a rave-up of "Apu Api" with the traditional "Holiday-in-Orlando-Breakdown," Debbie bringing up the birthday boy to do the "Apu Api dance," something he succeeded in doing almost as well as his tamborine/conga duet with the legendary Joe Lala (who honored and awed us all, sitting in for the night) during The Riotous Brothers' set.

This was followed by the traditional "Holiday-in-Orlando-Closer" of the Flamin' Groovies' "Shake Some Action." Getting enough of a charitable ovation to merit an encore, we brought up almost every woman in the audience--along with Peter from The Riotous gang--and launched into the extended dance mix evangelical album version of "Girls Just Wanna Have Fun." Which we all did.

THEN we stopped and let them eat cake. Thank You, Carol!!
Happy Birthday, Dear Friend.
---
---
As of 8/12/2006:
Butlerville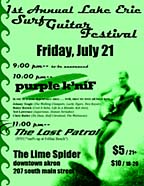 As he did a couple or three (hundred) moons ago on the road with Richard Lloyd (Television, Rocket From the Tombs), Chris moved back onto his drumline once again for a couple gigs--one in Hoboken the previous week--and one at the Lime Spider on July 21st as part of the First Annual Lake Erie Surf Guitar Festival with his most fun and creative filled-with-mad-skills-and-big-smiles surf music band: Purple K'niF. Fun fun fun!

The Half Cleveland Oppositional Weather Weekend in the East
Setting the table: Since 2003, 97% of our gigs in the NY/NJ area, be they Half Cleveland or the Mothership of Tin Huey, have been met with sub-zero temps, snowstorms, downpours and/or raining down killer black centipedes riding on the backs of carnivorous toads. This time was different. No rain, no snow, no sleet... but the temperatures, this time, approached those felt by the modern Superman whenever he punches his head through the sun.
Friday: July 28th, The Baggot Inn, Greenwich Village, Manhattan

The full foursome of Harvey, Chris, Debbie, and Bongo Bob invade...loudly.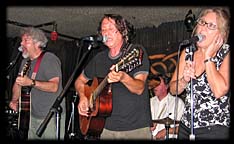 Sitting in on the revived "Millions and Millions" was once again the lilting not-flatness of Dolli. The BIG NEWS, however, was being joined by legendary Hueys guitarist extraordinaire, Ralph "E-Boy" Legnini. Two thirds through the 45 minute set, he stepped up (could have stepped UP even more, but no phone books or step stools were available) and kicked off the song that has been a cornerstone of both Tin Huey and Half Cleveland sets, his co-penned-with-Harvey "Cheap Mechanics." His guitar solo, btw, was absolutely killer!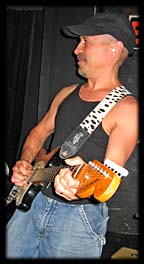 Ralph stayed onboard for Harvey's "Lazy Boy," participating in a skull-cracking guitar duo with Harvey to end the song. A great time, with hopes that Ralph will come down from his hideaway in the Catskills to join us on more in the future. Also, Debbie successfully displayed a little off-the-shoulder number. Sweet!
PS: News
Big Ralph (Carney) and Little Ralph (E-Boy) have signed a deal with Richard Branson's new children's label. More as we get it. Congrats, Ralphs!!!

Saturday: July 29th, The Goldhawk, Hoboken, NJ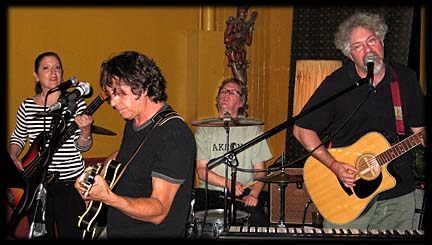 Returning to their living room away from their living room, Half Cleveland squeezed in and around the stage to play for about 80 minutes.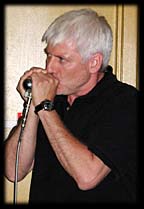 Notable, other than Dolli joining as mentioned above, it was the full four piece way-more-rock-than-anything–else version of the band. They were joined by local Hoboken harpmeister, Tom Bergin. Tom sat in first, doing the solo spot on "Cheap Mechanics" landing, as Huey Michael Aylward has done more than once in the past, that long leanin' note on his "A" Harp. Tom also joined in on a likely suspect, Lowell George's "Fat Man in a Bathtub," and then later in the evening, gloriously acquitted himself on what has become a tradition of bassoon, cello, and drums doing soft shoe solos, on Chris's "Red Drinks." Bravo and thanks, Tom!!!
PS: News
Butler gets cut!!! Chris followed these gigs by getting his rotator cuff, torn muscle, bone spurs, and termites in his right shoulder dealt with at...get this...the Ear, Eye, and Throat jernt run by Lennox Hill, on Tuesday, August 1st. Outside of NY hitting 110 "BLISTERING!" "BLAZING!" UNBEARABLE!" degrees causing a couple power outages, thus intermittently and annoyingly removing AC from the poor boy's recovery plan, he did quite well, folks!! Harvey got him Milanos and DID NOT steal any of his Vicodans. Kudos, Harvey!!!
PS: News
Harvey in the Hall!!! Taking advantage of this shoulder-induced hiatus for Tin Huey and Half Cleveland, and a visit up north by recording engineer/producer (Chi-Pig's Miami, to mention just one) emeritus, Bruce Hensal, the Harvey/Dolli residence was turned into "GoldSchool Studios" for a couple of days. The core band of what we previously called "Harvey and The Limelighters," Harvey, Bongo, and Debbie, recorded most of the tracks for three songs: Harvey's "Lazy Boy," which has been a pretty regular part of the Half Cleveland set over these last months; "Allegheny Lode," a bit of Appalachian-flavored whimsy that Harvey's been tinkering with over the last hundred or so years; and an experiment that Harvey and Bongo sprouted months ago at a Hueys' rehearsal--a version of that doleful (yes, that's right) tune by the Beatles, "I've Just Seen a Face." Dan Auerbach (pictured right) of The Black Keys, dropped in and put down a searing guitar solo on "Lazy Boy" and a great walking geetar picker on "Allegheny Lode."

Harvey plans to be down in Orlando in November to finish up the tracks.
---
---
6/28/06 Half Cleveland at Nantucket Nights, Akron Ohio
The Return of Bongo
Playing our first gig at Musica
A nice space (could use a bit more PA system, but still, great feel...)
The Kristoffer Carter Show, in from Chicago, opened the evening with his customarily energetic, well-crafted set. Then, Houseguest (our fave Akron band) blasted in for an hour.

Then we, with "Bongo" Bob Ethington returning to the kit after a hiatus that saw Huey's drummer Stuart Austin with us last time out, did two 45 minute sets. Half Cleveland returned Chris's "Millions and Millions" back to the set, bringing Ms. Dolli Gold back up to help out on vocals. Also added was Harvey's "Soldier of Fortune," heretofore recorded and performed by the Hueys. Guest bassoonist Miss Nona Ethington joined in once again, taking a turn on CB's "Red Drinks." The show was recorded for a possible live EP release.

More on that later --
---
---
6/2/06 Half Cleveland at The Displaced Musicians Benefit--The Lime Spider, Downtown Akron Ohio
Fun Gig. Saw old friends and made a bunch of new ones. In honor of the occasion, added Lowell George and Little Feet's "Fat Man in a Bathtub" to the set. HC line-up: Chris Butler, Harvey Gold, Debbie Smith and Stuart Austin, with guest Michael Aylward. Yeah, buddy!


---
---
STILL STANDING, MY ASS

A report on the Tin Huey Mug-a-Sheep Show at
The Lime Spider, Akron, Ohio on April 29, 2006.

By H. Harvey Gold

I pretty much, as policy, unflinchingly strive to maintain some reasonable level of modesty.

Yes, admittedly, the fact that anyone would ever choose to take a stage in the first place suggests an ego involvement of one size or another.

But having people approach and tell you that your music changed their lives, or even simply rocked them on a given night is a truly humbling experience. Of course it feeds the ego, fuels you up for another go at it, but the fact that you might wield this much influence triggers the "aw shucks" reaction.

OK then--my reason for going through this lead-in crap is to, first, "hear" the "sound" of my own voice, something that anyone who knows me, will tell you, between just being me, and occasionally channeling my father, an enthusiastic orator himself, is something I simply... do.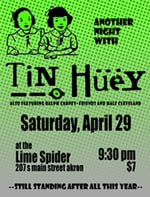 The second is to work up the less than modest pronouncement that SATURDAY NIGHT APRIL 29TH TIN HUEY WAS AS COMPLETE A TIN HUEY AS IT HAS BEEN... EVER.
The secret to Tin Huey's Absolute Lack of Widespread Acceptance, and thus, Success, is a fine and delicate recipe that throws together many, many ingredients that have never had any business being combined in one metaphor, yielding a band so eclectic that it could only be described as... um... um... well, that's the magic of it isn't it?
So, in order to be consistent in our inconsistency, we decided to make this the Everything We've Eaten Will Be Plated and Served Tonight show. Let's examine: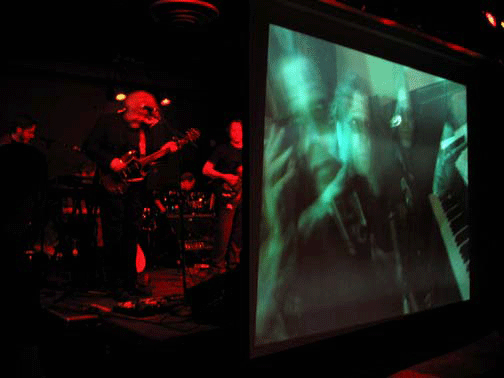 The evening started with a screen in front of the stage, showing a music video, evoking (I'd like to think) some of the early Residents efforts, a video made for hornologist Ralph Carney's birthday this year, a smoky version of that old hophouse favorite, "Larry's In the Cutout Bin."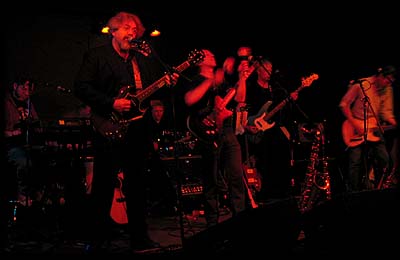 As the screen rose the band jumped right into the only blatant socio-political song of the night, "Soldier of Fortune," an as of yet, unreleased track.
The Hueys followed this with:

"Puppet Wipes" from Contents Dislodged During Shipment

"Seeing" from disinformation

"Coronation" from Contents...

"Cuyahoga Creeping Bent" from the Clone Records EP, Tin Huey

"The Revelations of Dr. Modesto" from Contents...
This set represented, as I declared upon the conclusion of "Seeing," one of the crispy cookies of the musical Oreo® we were presenting on Saturday.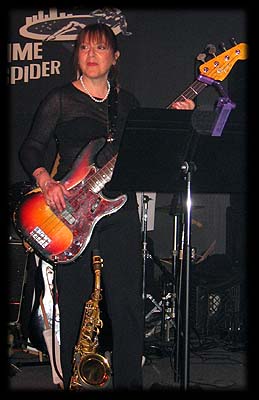 Moving on to the creamy filling: While Chris, Bongo Bob (moving over to drums) and I remained in place, the lovely Debbie Smith (Chi-Pig) and her pearls took the stage to assume the bass chores for a set by what has been described as a Tin Huey Guerilla Mobile Unit, Half Cleveland.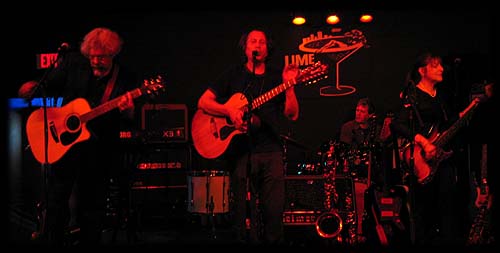 The set went as follows:

"New Enemy" cb - unreleased

"Le French Movie" cb - I Feel a Bit Normal Today

"Hey Stranger" cb - Easy Life

"Lazy Boy" hg - unreleased
And then followed, to close the set, the song that Chris nominated (and I seconded) as our new National Anthem--

"Shake Some Action" by The Flaming Groovies.
Half Cleveland, always a seemingly shape shifting work in progress would like to thank everyone once again for the truly warm and appreciative reception, and offer a tip-o-the-hat to Michael and John Mondl, who drove The Lime Spider's Danny Basone a little batty with requested tweaks to the sound mix.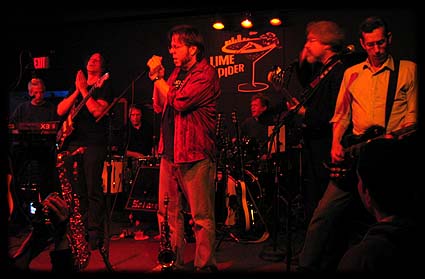 After a short break, all the Hueys re-took the stage, all in somewhat different roles and views as we launched into the "Ralph Carney and Friends" portion of the night.
The line up:

Michael on guitar, organ, and Friend-of-Ralph

Chris on guitar, stylophone, and Friend-of-Ralph

Mark on guitar, organ, and Friend-of-Ralph

Stuart and Bongo Bob splitting drumming and percussion duties down the middle, while also managing to be Friends-of-Ralph

me, H. Harvey, on bass and Friend-of-Ralph
and

Ralph on vocals, sax, trumpet, slide clarinet, electric musical Bible, and Ralph.
The set:

"Heckraiser" from Ralph's most recent solo release This Is! Ralph Carney
"Willie the Pimp" by Frank Zappa, a version of which appearing on the shiny new CARNEYBALL JOHNSON CD of the same name.
"I Call Your Name" by the Beatles--a wayward slo-mo version emulating one recorded by Carney-Hild-Kramer
"Ain't Got Nothin' Yet" by The Blues Magoos
Great fun, big rave ups.
Everyone was sweaty.
We took a Half Time Break.

Coming down the stretch, we took the stage as Tin Huey once again, rolling down the old Hueylation trail out of RAlphaville with "Man Don't Come"--yet one more tune off of This Is! Ralph Carney.

We followed with:

"Cheap Mechanics" from disinformation
"Hump Day"* from Contents...
"Rats" hg/mp - unreleased
"Larry's in the Cut Out Bin" hg - unreleased
...and finished up with Mark's what-a-rush-to-play

"Robert Takes the Road to Liebernawash" crashing, as always,into
"Little Red Riding Hood Hits the Road" by Robert Wyatt as recorded by the Hueys from disinformation.
*NB: see the notice on this below, our Latest News about the inclusion of our recording of Chris's "Hump Day" in a new Sundance film.
Observing that two Hueys had traveled in from the West Coast and that we had all schlepped a ton of gear over to the venue, I declared prior to the last number that we really only required a small amount of applause and only a couple shouts of "Encore!" as we were going to play the encore tunes on our list regardless. We were having some fun, y'know?
So after taking 2-3 minutes to breath, allowing the house enough quiet to order more beer, we came back and played:

"The Tin Huey Story Part 2" from disinformation
"I'm a Believer" from Contents...
"Helter Skelter" by some obscure Merseybeat band
"Sister Ray" from White Light/White Heat.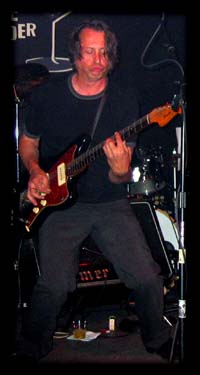 Things started getting out of hand with "Helter Skelter" (Michael's idea). We have always tended to ride this one more like a Stooges song than a Beatles tune. Then again, so did The Beatles.
"Sister Ray" (Chris's idea) just finished things off. We concluded at rehearsal a couple nights before, that with the sad passing of Sterling Morrison, Tin Huey was really the only band that should play Velvet Underground songs of this vintage... so we did. The original track on "White Light/White Heat" was about 17 minutes long. In the "old days" Tin Huey would rival that length, when allowed. We will be timing this version and entering the definitive length, but know this... we committed to this one Jimmy.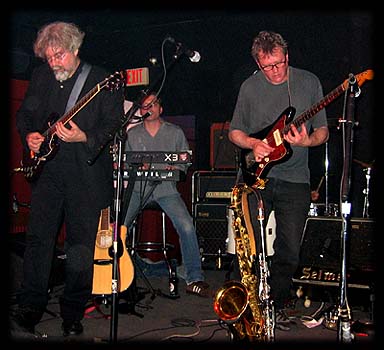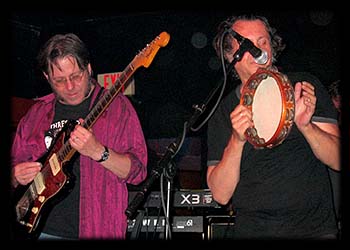 As this monumental wall of sound moved along, things started happening. It's all a blur now, but suffice it to say that by the time we were finished, Chris had made it over to one of the drum kits, Bongo Bob was playing guitar along with Mark, and Michael was playing bass. I'm pretty sure I saw Ralph playing some guitar at one point. This is NOT where everyone started out. About 10 minutes or so into it, our ex-roadie, Greg Lewis, moved by some remaining emotional scars from when he tried, back in '78, at our urging, to crash a lesbian bar on Santa Monica Boulevard, never quite understanding why the big mean chick came so close to throwing a beat down on him to keep him from all the other hot chicks in the bar, removed my shoe, failing at his attempt to do same with my sock.
So after a time, I enlisted the services of our pals David Giffels (The Difficult) and Dave Rich (Houseguest) to keep the keyboard grind going, repaired to center stage and returned shoe to foot, then built a screamy creamy guitar loop as the other boys left the stage, leaving myself, then returning to hammer my looper into submission, bringing a frightening roar of quiet to the house. Probably my best moment of the night.
Epilogue: The crowd cheered and we were done. Our attempts to use "Sister Ray" to yet once again clear a house failed, but we were OK with that. Square Records Dave tells me he had fun at the show, but thought "Sister Ray" was too long. We were on the phone when he said that, but trust me--I stared at him blankly for a bit.
I pretty much, as policy, unflinchingly try to maintain some reasonable level of modesty.
But this one was something.
Thank you everyone for everything for ever.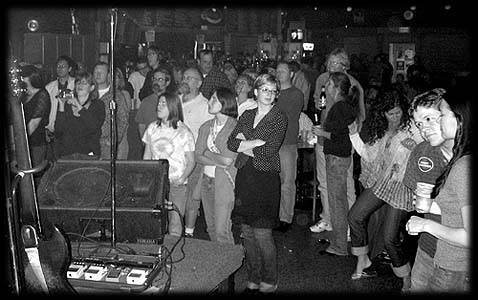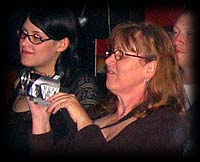 P.S. Susan Aylward videotaped almost all the show. The sound was unusually good, so, if we can find more stuff to cut with it, we may just turn this into something.
(photos: Dolli Gold)
---
---
---
---
Thanks for tuning in and for your support. And remember to tip your Waitress!!

Cheers!
---











Last update: October 8, 2007