...TIN HUEY NEWS...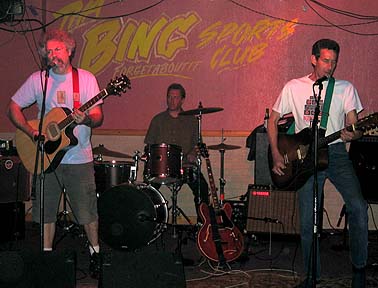 "Rock the Vote" benefit, Akron Ohio.
Saturday, September 25, 2004
Featuring 42.857% of Tin Huey + Friends.
Harvey, Michael and Bongo put together a mid-power trio in the "Half Cleveland" semi-plugged tradition for a benefit put on by long-time friend and fan Mary Mosher looking to get people registered and jazzed to go to the polls in November as well as supporting Deborah Matz for 9th District Court of Appeals judge.
The evening began with Harvey and Michael on amplified acoustic guitars along with Bob on drums playing "Cheap Mechanics" from the Tin Huey CD, disinformation, featuring a really cool harp solo by Michael. Following with the same configuration was "Soldier of Fortune," featured on the new limited edition EP Sneak Peak: The Obscurity Series, and set to appear on the next full length new CD, New Stuff: Obscurity Deluxe. Harvey then moved to keys and Michael to electric geetar for "Larry's in the Cutout Bin," (also from the New Stuff... CD). The gang then moved on to play John Cale's "Close Watch," and the Harvey- and Chuck Keith-penned "Sister Rose."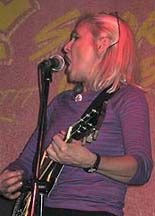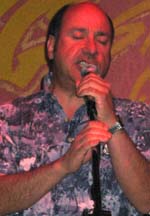 At this point, the Hueys welcomed Sue Schmidt Horning of Chi-Pig to the stage. Sue sang lead vocal and played electric guitar as the foursome did a rendition of Richard Thompson's "The Angels Took My Racehorse Away." Finally, up came Nick Nicholis of the Bizarros, and the quintet did a crazy (remember...no bass) relentless take on "Waiting for the Man."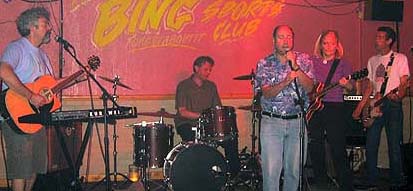 --Cool gig. Vote Kerry, for goodness sake.
---
The Tin Huey Monster Truck and All You Can Eat Buffet Weekend!!!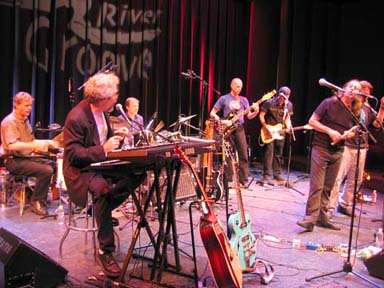 Sept. 17-19th, 2004
Friday, September 17th - "oooh... Tin Huey's doin' a TeeBee Show!"
As a starting point, Akron Ohio is always a treat. The city with the least number of sunny days in a year...in all of America...gave us a soggy stormy send-off as we headed up to Cleveland to do a videotaping for The Crooked River Groove, a really great music show produced through Cuyahoga Community College, and executive produced by musician Tommy Wiggins--a show in search of syndication, and currently in 6 figures worth of households in Northern Ohio. Hopefully this taping will also yield some QuickTime movies on our Live Video page on this site, and a music video or two.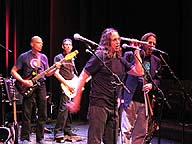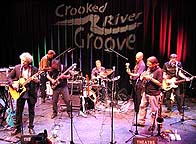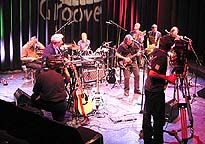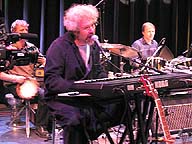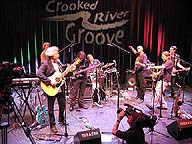 ---
Later that day...

...we had a CD release gig at The Beachland Ballroom for our new EP/CD Sneak Peak: The Obscurity Series, previewing tunes from our two forthcoming albums, Before Obscurity: The Bushflow Tapes, and New Stuff: Obscurity Deluxe. We were honored to have the Akron band Houseguest join us on the ticket as well as Subgenius-Gone-Smart-Guy-Mad, Lonesome Cowboy Dave Deluca and his gang. Lots of smart music from those peeps.
We invited pal Nick Nicholis of The Bizarros to join us onstage for The Velvet Underground's "Waitin' For the Man" then asked him back to do an encore of The Stooges' "I Wanna Be Your Dog." Inspiring (or inspired by) a small but drunk mosh pit, we opted to finish up the night with a version of said Stooges' "T.V. Eye" in as loud and uproarious a fashion as we could... acid reflux be damned.

---
Sunday, September 19th - Hoboken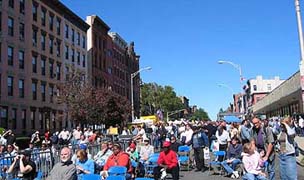 "And then the skies opened and... the sun shined. Mus' be Voodoo."
A GREAT and brilliant day, the old Tin Huey weather jinx got beaten back as the Hueys did two gigs in Hoboken, debuting the 4 song preview CD "Sneak Peak..." and the sky spilled nary a drop, nor froze a single digit as we had a grand time.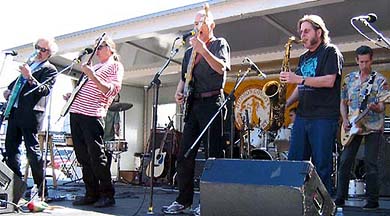 First up was the Fall version of the Hoboken Music and Arts Festival. We took to the Main Stage at 1:30 p.m. and had a great time wearing our sunglasses for a reason as we played this outdoor show for a good bunch making up a great audience.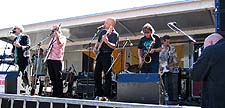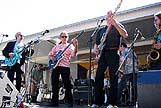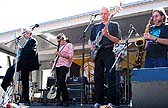 ---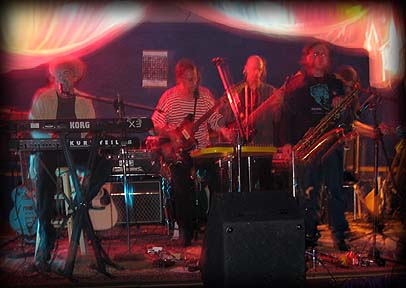 Then later THAT evening...

...we held a Post-Fair CD Release Party at Hoboken's grand old Shannon Lounge, a great neighborhood Irish bar, with a big cool back room with a stage, sound system, and bar of its own. The gig went great, lots of noise, lots of dancing. At Halftime, we paraded Half Cleveland East Coast bassist James McMillan out, and along with Bongo Bob, Chris and Harvey reformed "HC" to play a short set. Doing Butler-penned tunes "Red Drinks" with Ralph on horn, then "Workingman's Beer" off Chris's "The Museum of Me" release, they then brought up Michael Aylward and played, from the same Butler CD, the fan fave, "Idiot Trail." The Hueys then reclaimed the stage and the party continued on for about another hour.

No flat tires on the trip home either.
---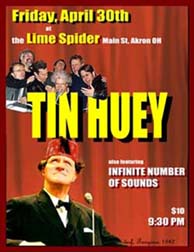 For Tin Huey, this was a chance to get back to playing a bit after an 8 month lay-off. Everyone had certainly been doing things (see reports below): Recording and mixing for new CD releases has been ongoing, Ralph Carney has been busy out west with assorted projects and his sweet combo, CarneyBall Johnson, while Harvey Gold and Chris Butler's Half Cleveland has been turning up here and there in the east, both of which hosting a variety of guests, including the rest of the Hueys at various times and locales. Also completed over the last months is 'Bongo' Bob Ethington and partner Ray Carmen's second Kinski Spiral CD titled Kinski Spiral plays Silent Stars.

So while busy, we just needed to get out and play again as a full band. This weekend was intended to be a quick hit, starting at Akron's The Lime Spider on Friday, and then moving east to an outdoor appearance at the Hoboken Music and Arts Festival, followed by an evening 'after party' at the Shannon Lounge, also in Hoboken.
Friday: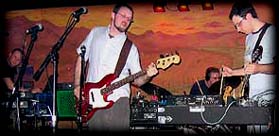 After years of searching for the perfect geek (techno optional) band to play with, our friends at the Lime Spider dragged Infinite Number of Sounds out of Cleveland to open the show. Insidious photog and webmistress, Dolli, having a FLASH on her camera, here does a paparazzi number on the boyz's.

And then came The Hueys... so, as if at a Passover Seder at Harvey's Gramma's house, we ask "what makes this night different from all other nights?"


In addition to cuts from disinformation and Contents..., we played a bunch of tunes that are expected to be on our next CDs. We added two more new songs, "Silly Idea" and "Physics" while picking some covers that we've simply always wanted to play; thus, we finally opened the night with Captain Beefheart and the Magic Band's "When it Blows it Stacks." During the second set, we pulled a "Ringo" bringing Bob out from behind his bongos, the versatile Mister Butler taking over the ticky-thump-tap chores, to front the band in T-Rex's "Rip Off".
A true highlight was having our friend Jack Kidney, of The Numbers Band and The Kidney Brothers, join in on tenor, giving us with Ralph playing a few different horns, our own magical horn section as we closed out the first set with Mark Price's (and our CD, disinformation's) "Robert Takes the Road to Liebernawash" segueing into Robert Wyatt's "Little Red Riding Hood Hits the Road". Thanks to Jack. Sounded great.
Our East Coast appearances at the Hoboken Music and Arts Festival and a "Street Fair After-Party" at the Shannon Lounge were... rained out. See both "Half Cleveland" gig reports below to begin understanding our increasingly vexed relationship with Mister Weather.
AND FURTHERMORE:
--Carneyball Johnson recently played with Stan Ridgeway (Wall of Voodoo) at their own San Francisco haunt where they maintain a regular gig, 12 Galaxies, 2565 Mission Street, and The Starry Plow in Berkeley.

Additionally, there's a really great piece on Ralph in a recent SF Chronicle. The editor decided that it would be Tin Huey that should be cut in order to get it to fit, certainly boosting the historical accuracy of the piece, but... there's a great pic of the BEAUTIFUL HEDDA.
---
Tin Huey is working toward the release of 2 new CDs!!!
New Stuff: Obscurity Deluxe...

...a new CD of never before released materials, some, as on "disinformation," prebaked from Eddie Offord's (Yes) studio in Levon Helm's (The Band) house in Woodstock, NY , the rest more recent recordings from both the studio in Ohio and live shows done this past August.

--and--
Before Obscurity: The Bushflow Tapes...

...an archival collection of studio tunes recorded at bassist Mark's "Bushflow Studio" by the Hueys and a couple combinations of individual Hueys assisted by bandmates and civilians alike. It will also include an equal number of live recordings by the Bushflow Mobile Unit of Tin Huey from around the "Contents Dislodged During Shipment" period. This project is being run by Michael Aylward and John Mondl, the same team that was the production core of the "disinformation" project.

Bonus tracks will become available (how? don't know quite yet) in the form of a big heaping handful of Tin Huey "Live at the Townhouse" in Kent, Ohio circa 1974 or '75. Rawer recordings and rawer music, a really interesting period piece.
---
---
Thanks for tuning in and for your support. And remember to tip your Waitress!!

Cheers!
---







Last update: October 14, 2004